In Memory
Pattie Boyter (Cato)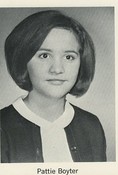 Pattie Boyter Cato
Pattie Boyter Cato, 33, of 2207 Wade Hampton Boulevard, died Tuesday.
She was an employee of Liberty Life Insurance Company and of the Baptist faith.
Surviving are her parents, Harold W. and Betty Ashmore Boyter of Greer.
Services: 11 am Tuesday at the Wood Mortuary, Greer, with burial in Hillcrest Memorial Gardens.
Visitation 7 to 9 pm Wednesday at the mortuary.
The family is at the home of Harold W. Boyter, Zoar Heights Community, Greer.
Greenville News – April 2, 1986
Patty was working at Liberty Life Insurance when she passed away in 1986. She died of a brain hemorrhage. She was not married at the time of her death.
Info provided by a co-worker.