In Memory
Mickey Bridges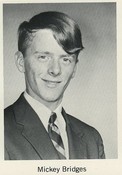 Mitchel Dean (Mickey) Bridges, 54, of 208 Perry Avenue, died October 23, 2006 at his home.

A native of Greenville County, son of the late Jack Odell and Joyce Lee Clark Bridges, he was a member of Concord United Methodist Church.

Surviving are a daughter, Jodi Michelle Bridges of Mauldin; a brother, Kenneth Allen Bridges of Springfield, Virginia; and sisters, Cheryl Ferguson of Taylors and Carol Garrison of Ridgeland, S.C.

Funeral services will be held 11 a.m. Friday at the Wood Mortuary, conducted by Dr. Don Tumblin. Burial will be in Wood Memorial Park.

Visitation will be held after the service at the Wood Mortuary.

The family is at the home of his sister, Cheryl Ferguson, 304 Bass Cove Drive, Taylors.

Memorials may be made to Greer Community Ministries, P.O. Box 1373, Greer, S.C. 29652.