In Memory
Wayne Dillard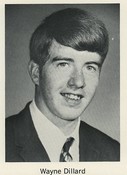 Wayne Brock Dillard, 58, died Saturday, April 3, 2010 in Colorado Springs, CO. Born in Greer, S.C., he was the son of Margaret Gantt Dillard Crain and the late James Christopher Dillard. He was a graduate of Greer High School, attended Clemson University and served in the U.S. Air Force.
Wayne and his wife, Kathleen, have served as missionaries in the U.S., Singapore, and India, with Prayercentral, an outreach of Take It To The King Ministries of VA Beach, VA.
Surviving are his wife, Kathleen of Colorado Springs, CO; two sisters, Sandie Rawls and her husband, Ken of Greer; Barbara Bell of Dalton, GA; one brother, Jimmy Dillard and his wife, Diana; two brothers-in-law; a sister-in-law; and numerous nieces, nephews and great nieces.
A memorial service will be held in Virginia Beach, VA., Sunday, April 11, and a military service will be held at the National Cemetery in Denver, CO. on April 15, 2010.