In Memory
Joan Evans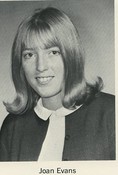 Joan Evans Arnold
Joan Evans Arnold, 35, of Route 2, 316 Knighton Chapel Road, died of natural causes December 1, 1987, at the Medical University of South Carolina in Charleston.
She was a retired secretary for Celanese Fibers industry and a member of Apalache Baptist Church in Greer.
Surviving are her husband, Larry P. Arnold of the home; her parents, Morris H. and Frances Hester Evans of Apalache; two daughters, Katherine A. Mundy of Fountain Inn and Misty Arnold of the home; a brother, Keith Evans of Lyman; two sisters, Cathy Harrison of Apalache and Lynn Baily of Anderson; and her grandmother Pearl Hester of Spartanburg.
Services: 2 pm Friday at the Lanford Funeral Home Chapel, Woodruff, with burial in Graceland East Cemetery, Greenville.
Visitation: 7 to 9 pm Thursday at the funeral home.
Greenville News – Dec 3, 1987.