In Memory
Grayson Godfrey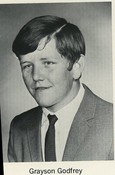 Samuel Grayson Godfrey II
Greer – Samuel Grayson Godfrey II, 39 of 111 Douglas Street, died July 31, 1992, at Spartanburg Regional Medical Center as a result of injuries sustained in an automobile accident.
He was a meat cutter for BiLo Inc., and was a member of Living Worth and Praise Worship Center. Surviving are his wife, Roberta Traylor Godfrey of Lyman; parents Samuel G. Godfrey, Sr. and Nina Champion Godfrey of Greer; two daughters, Lisa Michelle Edwards of Blue Ridge and Courtnye Brook Godfrey of Lyman; and two sisters, Cathy Godfrey Grubbs of Greer and Beth Godfrey Mohammed of Miami.
Services: 2 pm Monday at The Wood Mortuary with burial in Wood Memorial Park.
Visitation: 7 to 9 pm Sunday at the mortuary.
The family members are at the respective homes.
Greenville News – Aug 2, 1992.