In Memory
Judy Hamrick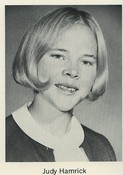 Judy Alexander Coward, 49, formerly of Greer, wife of Downey Coward, died Nov. 9, 2001.

A native of Spartanburg County, the daughter of Gordan and Lottie Springfield Alexander, she was a nurse and of the Baptist faith.

Surviving in addition to her husband, are one son, Bruce T. Hamrick of Irmo; two brothers, David Alexander of Greer, and Doyle Alexander of Lyman; one sister, Teresa Jennings of Woodruff; one grandson, Chris Hamrick; and maternal grandmother, Gaynell Springfield of Greer.

Funeral services will be held 3:30 p.m. today at The Wood Mortuary, conducted by the Rev. Deborah Mahaffey. Burial will follow in Hillcrest Memorial Gardens.

Visitation will be 2:30 to 3:30 p.m. today at The Wood Mortuary.

The family is at the home of her mother, 813 North Main St., Greer.


Published in The Greenville News on November 11, 2001
Aditional note from Judy's sister:
Judy passed away in her home in Florence after having back surgery. A blood clot went to her lung and she died instantly.
It was Nov 9 2001.
"My Sister, for those of you who knew Judy in High School you
know what a character she was, She loved to laugh and have fun.
I often envied her free spirit, she thought nothing of getting on a
bus alone and go to the Mardi-Gras.
Later on in her life she developed a need to help people. So in the last few years of her life
she went to school to be a nurse. She graduated from Florence
Darlington Tech in the top 10 in her class."