In Memory
Mickey Kennemore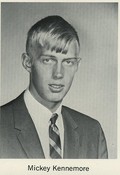 James Michael (Mickey) Kennemore, 56, of 101 Rusty Brook Road, died May 27, 2008, at his home.

A native of Spartanburg County, son of the late Norman Kennemore and Dr. Robert and France P. Jewell, he was a retired employee of G.E. and a member of Northwood Baptist Church. Mr. Kennemore served in the South Carolina National Guard.

Surviving are his wife, Martha Jordan Kennemore of the home; a daughter and son-in-law, Sherri Denise and Jason Forrester of Taylors; a son and daughter-in-law, Michael (Shane) and Kala Howell Kennemore of Greer; a brother and sister-in-law, Glenn and Joyce Jewell of Georgetown, Kentucky; a stepbrother, Ricky Kennemore of Greer; a stepsister, Tammy Shaw of Taylors; and a grandson, Ryder Blake Forrester of Taylors.

Funeral services will be held 4 p.m. Friday at Northwood Baptist Church, conducted by Rev. Michael Joe Harvell. Burial will follow in Wood Memorial Park.

Pallbearers will be Mike Durham, Harold Turner, David Holliday, Charles O'Shields, Ed Meister, and John Brown.

Honorary escort will be Northwood Baptist Church choir, The Joyful Servants Sunday School Class, and the maintenance department of General Electric.

Visitation will be held 6-9 p.m. Thursday at the Wood Mortuary.

The family is at the home.

In lieu of flowers, memorials may be made to Northwood Baptist Church Provisional Fund, 888 Ansel School Road, Greer, S.C. 29651.