In Memory
Sylvia Slatton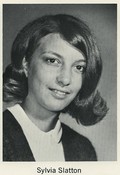 Miss Jean Slatton
Greer – Miss Jean Slatton, 18, of 104 Woodward Street died 4:27 am Sunday in Allen-Bennett Memorial Hospital.
Daughter of Robert and Betty Jean Whitman Slatton; resident of Greer; member of O'Neal Baptist Church.
Surviving: brother Robert Jerry Slatton of the home; sister, Mrs Barbara Ann Harper of Greer and Miss Robbie Gable Slatton of the home; paternal grandmother, Mrs. Ella Slatton of Greer; maternal grandmother, Mrs. Myrtle Johnson of Greer.
Services: 4 pm Tuesday at O'Neal Baptist Church by Revs. W. C. Banker and Glenn Felmet; burial in Mountain View Cemetery.
Pallbearers: Tony Goodwin, Rick Blocker, Eddie Reese, Jerry Starnes, Tony Atkins, and Darrell Blackwell.
Body at home, 11 am today. Wood Mortuary, Greer.
Spartanburg Herald – Jan 4, 1971