In Memory
Pam Redmon (Kimbrell)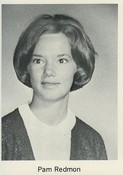 Date of death - April 20, 1977
Taylors – Pam Redmond Kimbrell, 25, of 3 Wood Heights Ave., a dental assistant, wife of Dean Kimbrell, died Wednesday.
A native of Greer, daughter of Cotton and Evelyn Few Redmond of Greer, she attended Greenville Tech and was a member of Taylors First Baptist Church. Surviving are a brother, Bruce Redmond of Greer, sister Debbie Davis of Taylors, and grandparents, Mr. and Mrs. Baxter Redmond and Thuisa Few of Greer.
Services will be at 4 PM Friday at Taylors First Baptist Church with burial in Mountain View Cemetery, Greer.
The body will be placed in the church at 3 PM Friday.
Memorials may be made to Taylors First Baptist Church Building Fund. Wood Mortuary.
Greenville News – April 22, 1977